Tastings of wine and typical products at our Agriturismo
Wine has always taken centre stage in moments linked to conviviality, to the pleasure of being together. Of course, today it is evident that tasting a wine in its land of origin also gives you the chance to pleasantly share in the history and traditions of the place. At Sanguineto, wine tells the story of our farm, the ancient traditions of the farming families that have succeeded one another here, perpetuating knowledge generation after generation.
We are producers of wine and oil in the best Tuscan traditions and are proud to offer our guests the chance to appreciate the beauty and goodness of Tuscany at the table, accompanied by a good glass of wine.
From late afternoon until dinnertime – but different times can be arranged to suit guests' preferences – it is possible to taste two wines (a Rosso di Montepulciano DOC and a Vino Nobile di Montepulciano DOCG), together with a rich platter of bruschetta, cured meats and cheeses typical of the area.
Obviously, these products, like all the others we bring to the table, are rigorously selected and of the highest quality.
Rosso di Montepulciano and Vino Nobile di Montepulciano
Rosso di Montepulciano DOC and Vino Nobile di Montepulciano DOCG with a platter of cured meats, cheeses and bruschetta
€ 40.00 per person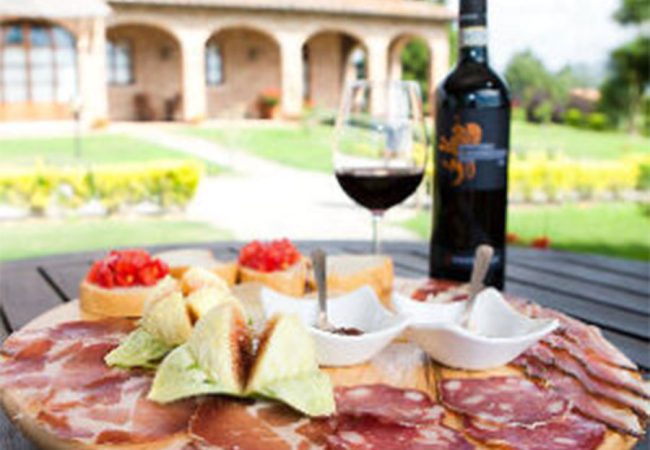 Wine Tasting & Spa Weekend – 3 Days, 2 Nights
Day 1
Arrival and check-in to a suite furnished in typical Tuscan style
7.00 p.m. – Wine tasting with Rosso di Montepulciano DOC and Vino Nobile di Montepulciano DOC
Day 2
8.30 a.m. / 10.30 a.m. – Buffet breakfast with home-made pastries, fresh fruit, local cheeses and cured meats
Free morning to explore Montepulciano.
Use of the Wellness Centre at times to be agreed upon
Day 3
8.30 a.m. / 10.30 a.m. – Buffet breakfast with home-made pastries, fresh fruit, local cheeses and cured meats
€ 250.00 per person
The price includes:
– Sauna
– Steam Bath
– Emotional Showers